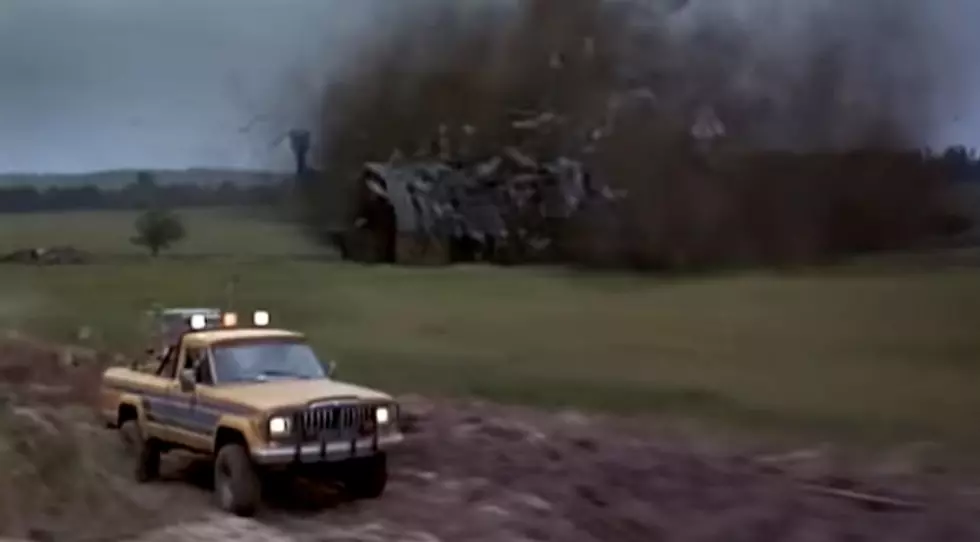 Hollywood is Making a Sequel to Oklahoma's Original Twister
The Trailer Guy YouTube
It's been over twenty-five years since the world experienced Oklahoma's wild springtime weather on the big screen with Twister, it's about time they got a little refresher.
Welcome back to the suck zone!
While there's plenty of conjecture online and a few fake trailers, the details aren't clear as mud.
While every outlet seems to be listing the sequel as Twister 2, there was a tornado-chasing film released straight-to-video right after the original movie dominated the 1996 box office. The sequel is to be called Twisters.
From IMDB:
Twenty years ago, scientists achieved the impossible. They collected a full data set from the inside of a monster F5 tornado. Through the application of this data, they were able to create Antheia, an advanced early warning system. With this information, thousands of lives have been saved and populations have grown comfortably under the watchful eye of their protector. However, whilst science has become complacent, mother nature has continued to evolve...
The cast is also a weird jumble of curiosity too. Google shows Bill Paxton and Philip Seymour Hoffman attached to it, but since they're both dead, it's more than curious. I suppose flashbacks and archival footage aren't out of the question, but more than likely they're listed because they starred in the first. It's just how Google's algorithm works I suppose.
Will they film it in Oklahoma?
That is the million-dollar question. The original was based out of my hometown in North-Central Oklahoma and filmed all across the Cherokee Strip. Hollywood wanted it filmed in California, but the Sooner State authenticity made it the second-highest-grossing film of 1996, bested only by Independence Day.
Oklahoma's quickly on the rise in the film industry due to generous tax incentives from the state. Reservoir Dogs has been a huge success. Martin Scorsese and Leo Dicaprio's Killers of the Flower Moon is sure to be a box-office hit too. Oklahoma has become 'the' place to film in the 2020s.
All the same, the last three years of shrinking box-office dollars due entirely to Covid-19, Hollywood is back to making movies as cheaply as possible, making for some pretty awful flicks... You saw Me Time, right?
When does it release?
The tentative release date so far is a very generic summer of 2024, so we have a while to wait.
The original opened the second week of May and all hell broke loose at theaters across Tornado Alley. There were tons of places that had to stop the movie and send people toward shelter because real-life tornadoes were happening all around them. A crazy coincidence in the most fantastic sort of way.
Will it be as good as the original?
Meh... When was the last time a sequel outperformed the original? That being said, when the script was pitched to Steven Spielberg, he apparently reacted with enough enthusiasm that he fast-tracked the project with his production company.
Odds are, if you walk into the theater (or wait for the bootleg torrent) with an open mind, it'll probably be entertaining.
Oklahoma's Hobbit House is the most unquie & epic Airbnb
Look inside this EPIC $5,495,000 Oklahoma Estate
It's being called the premier luxury listing in all of Oklahoma on
Zillow.com
. This massive mansion in
Arcadia, OK. at 400 Deep Fork Circle
is listed by
Ty Burnett of Engel & Voelkers Edmond
. It currently has an asking price of
$5,495,000
making it one of the most expensive houses for sale in the Sooner State. This epic 12,020 square foot estate sits on over 2.5 acres and features 7 bedrooms and 9 bathrooms. It comes with its own guest house, resort infinity pool, cabana, and gym. The chef-inspired kitchen features all professional, commercial-grade appliances. There's a THX theater room and entertainment suite complete with its own bar. The master bedroom has a see-through fireplace, huge celebrity-style closets a garden room, and heated marble floors in the master bath. It has a basement a wine cellar and tons of outdoor patio and sitting areas.
Scroll through the pictures below and take a virtual tour of this epic estate in Arcadia, OK.
16 Annoying Things Oklahoma Drivers Do
I can't even begin to tell you how often the conversation turns to bad driving in my circle. Now I've lived in a bunch of different states, and driven in many more as my family's safe vacation driver, I can tell you some of the most common driver complaints are universal... but as Oklahoma drivers seem to swear they're the best, here are some of the things that annoy the rest of us.