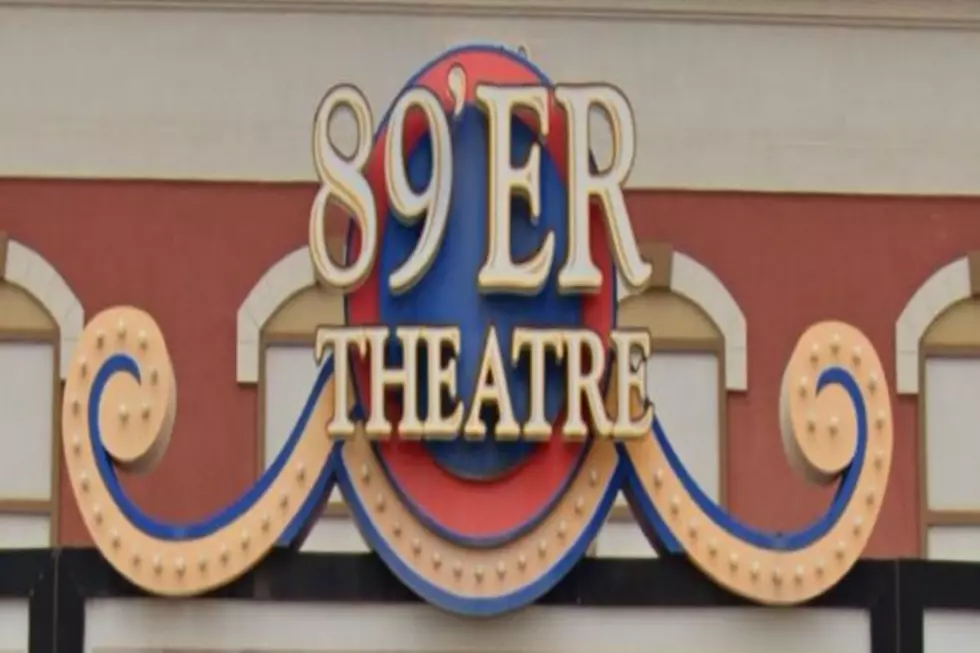 Oklahoma Theater Makes National Headlines Over 'Lightyear' Controversy!
Google Maps- 89'er Theater Kingfisher, OK.
A movie theater in Kingfisher, Oklahoma has made National headlines this week after posting a sign that warned parents of a same-sex kissing scene in Pixar's new 'Lightyear' movie that was just recently released.
The sign also stated that the theatre would fast forward through the scene. Needless to say, this has created quite the controversy and the 89'er Theater is at the very center of it. At this time the sign has been removed.
It was too little, too late. After news and pictures of the sign spread and after receiving complaints it was removed. The theater has said they didn't fast forward through any of the scenes in the 'Lightyear' movie.
According to The Washington Post here's what the sign read: "Attention Parents: The management of this theatre discovered after booking 'Lightyear' that there is a same-sex kissing scene within the first 30 minutes of the Pixar movie. We will do all we can to fast-forward through that scene, but it might not be exact. We apologize for any inconvenience this late discovery of this scene causes." Word of this really spread fast!

Hit play on the video below to watch the official trailer for 'Lightyear' in theaters now
Agree or disagree it's definitely caused a lot of complaints and controversy for the 89'er Theater. The story was picked up by The Washington Post and several other news outlets, sites, shows, and newspapers around the country. Since then the 89'er Theater's Facebook page has been inundated with comments/complaints.
Since the story has gone viral and has been picked up by media across the country people from all over are offering their opinions and disagreements. The comment section on their Facebook page has become a place of heated debate, threats, and hateful name-calling, you know like everywhere else on the interwebs.
Being June is Pride Month the timing for this couldn't have been any worse. While I get that they're privately owned and can hang whatever sign they want, they should have thought this one through a little more. Again they did remove the sign and didn't fast forward any parts of the movie, but the damage was already done.
'Lightyear' has seen its fair share of controversy since it hit the silver screen in the U.S. Some places around the country choose to hang signs warning parents of what they deem to be questionable content. In other places around the world, it's been banned outright. There are 14 countries and territories so far that will not show the new movie due to the same-sex kissing scene including the UAE, China, Saudi Arabia, and Egypt.
Look Inside This EPIC $6,950,000 Oklahoma mansion!
Take a tour of this incredible mansion in Oklahoma City, OK that's for sale. If you have
$6,950,000
you could be the proud new owner of this one-of-a-kind estate. It's located at
9200 N. Sooner Road in Oklahoma City, OK.
and is listed by
Kermit Brown
of
Chinowth & Cohen Realtors
.Can you imagine actually living here?
Scroll through all the pictures for a look inside and take a virtual tour of this one-of-a-kind OKC mansion.
Top Mispronounced Towns That Show You're Not From Oklahoma
Just for funs, try to pronounce these town names before hopping to the phonetics...
See the Most Epic & Unusual Oklahoma Airbnb Rentals!
Take a break from the boring and ordinary and make your next overnight stay more spectacular and memorable. These rentals are a lot more than just a place to stay, all of them could easily be a vacation destination and experience all on their own! If you're planning a staycation or vacation in Oklahoma you should definitely check out these epic and unusual
Airbnb
rentals versus booking just a plain old room at a hotel or motel. You could make your accommodations a part of the experience itself by staying at any of these amazing places in the Sooner State.
Scroll through the photo gallery below to check them out.
Oklahoma's Most Legendary Food Challenges
While you can certainly accept social trends in eating at chain restaurants for the rest of your life, you'd at least get a show with your dinner while watching the iron stomachs of Oklahoma tackle the biggest and most legendary food challenges at the various mom & pop restaurants spread all across the Sooner State.