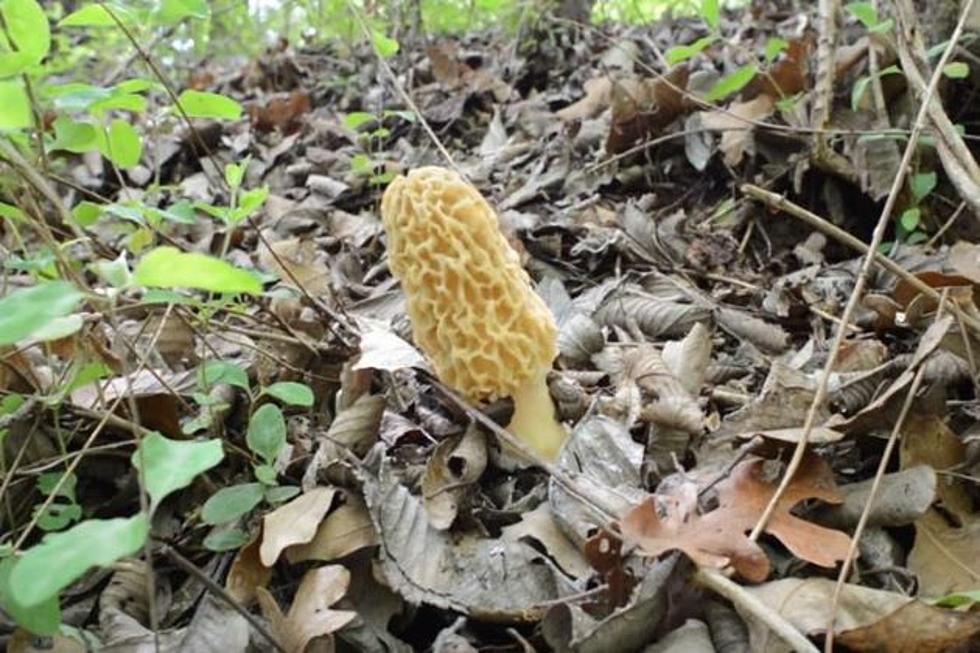 It's Morel Mushroom Hunting Season in Oklahoma!
YouTube.com- OutdoorOklahoma
It's Morel mushroom hunting season in Oklahoma! These tasty little treats are only found for a limited time throughout the spring. Early spring is the best time to hunt and find Morels in the Sooner State. For the next 4-6 weeks it's prime hunting season so get out there and start looking for Morels. Once the Red Buds start blooming, which they are, it's just about the right time to get off the pavement, and head into the woods.
A handful of Morel mushrooms ready to be cooked and enjoyed!
If you've never had one, you're missing out, they're the most delicious mushroom hands down! So what do they taste like? To me, they have a nutty, earthy flavor when lightly fried they take on a more meaty flavor when fully cooked. Some people eat them raw, but I prefer cooked or fried. One of the best ways to fry them is in bacon grease, it may sound weird but believe me, it takes the flavor to a whole new level and experience!
Sometimes you get lucky and find a big one, this one's a meal in itself!
Because they only grow for a limited time during the early spring months and once harvested they have to be eaten quickly, they're very expensive to purchase. Not only that Morels aren't farmed like other mushrooms. They have to be collected in the wild. I've seen them for $20.00 to $30.00 a pound and that's when you can find them. If you've never hunted for Morels mushrooms before hit play on the video below to learn more.
You can find Morels in the woods, typically they grow near creeks, areas of higher moisture, and in dead foliage. Look around the base of trees and if you see a dead or near dead tree make sure to look closely, morels love to grow near the bases of dead trees. You'll see them sprouting out or slightly covered by leaves and dirt so make sure you look closely and move vegetation around using a stick, small rake, or by hand.
The more the merrier! If you too have 'Morel madness' you know what I'm talking about.
If you've never hunted for Morels you'll want to be careful and make sure that what you're picking and eating are indeed Morels. There are some types of mushrooms that look like Morels but are poisonous and can be harmful if eaten, so do your research. It wouldn't hurt to go with someone who knows what they're doing and has knowledge of the various mushroom types the first few trips into the woods just to be safe.
Time to hit the woods and do a little Morel hunting while the hunting is good!
Starting now through May is prime Morel season in Oklahoma and you'll have the greatest chance of finding these incredible mushrooms. They grow best in 60-degree temperatures and when overnight temps don't drop below the 40s which is pretty much where we're at right now. So grab a basket or mesh bag, a walking stick, or rake and head out into the woods. We only have a few short weeks to hunt Morels in Oklahoma.
Look inside this insane Mansion that's for sale in Oklahoma
Take a tour of this incredible mansion in Mustang, OK. that's for sale. If you have
$3,395,000
you could be the proud new owner of this one-of-a-kind estate. It's located at
12300 S. Highway 4 in Mustang, OK.
It's listed by
Nathan Barta
of
Ken Carpenter Realty
in Mustang, OK. Can you imagine actually living here?
Scroll through all the pictures for a look inside and take a virtual tour of this one-of-a-kind Mustang mansion.
15 More Amazing Southwest Oklahoma Hole-In-The-Wall Eats
It's far too easy to be lulled into thinking the same old chain restaurants are the "good" places to eat across Southwest Oklahoma. You won't find a single franchise on this list. It's all locally owned, locally run, sometimes a little run down, but you'll agree the meals are outstanding when you walk away with a belly full of the good stuff.
Funny, Crazy & Unusual Street Names Found in Oklahoma
One thing's for sure, Oklahoma has a ton of funny, unusual, and downright crazy street names. Across the Sooner State in every town, city, and rural community you'll find hilarious streets and roads with some of the most bizarre names you can think of. When they were named, more than likely years ago, I'm sure no one thought they would be considered crazy or funny at the time. Well, times have changed! Now some of these street names had to be deliberately named by someone with a great sense of humor. At least in my opinion anyway. Scroll through the photo gallery to check out some of Oklahoma's funniest and craziest street names. If you know of a funny or crazy street or road name in Oklahoma take a quick photo of the sign and submit it to critter@townsquaremedia.com and we'll include it in the photo gallery below.
The Beauty Of Southwest Oklahoma
Too many people spend too much time complaining about being in Southwest Oklahoma. If only they'd shut their mouths and open their eyes from time to time, then they'd see the true beauty of this place.